Accesories


PA Thrust 20 outrunner motor with RotorKool Technology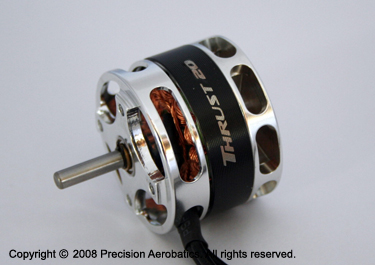 Outside Diameter 37.2mm
Length 31mm
Weight (gr/oz) 71.gr / 2.5oz
Motor Shaft Dia. 4.0mm
Mounting Bolts Dia. M3
Max efficiency Current A * 4-22A
Peak current A (15 sec) * 27A
Battery pack range ** 2~3 LiPo / 6-10 NiCd
Poles 14
KV rpm/V 1030
Recommended ESC PA Quantum 30
Peak Watts 330 watts
PA Quantum 30A High performance Programmable ESC


The PA Quantum 30 is a performance enhanced Brushless Electronic Speed Controller specifically designed to seamlessly match our Thrust 20® 

Our Quantum 30 ESC is a part of our iPAs ("Integrated Performance Airframe-Drive System") offering a superior performance Airframe-Drive solution without compromise, an industry first, giving unparallel performance, reliability and efficiency out of the box.  
The PA Quantum ESC's has 4 high power regulator chips BEC. This BEC specifically designed for extreme aerobatics and therefore has the capability to support the higher momentary peak demand loads to eliminate the possibility of unwanted shutdowns. This high power BEC is also capable of supporting continuous simultaneous multiple servo operations typically found in CCPM equipped hardcore 3D E-helicopters. This is especially important when using a 2.4GHz receiver.
This 30A ESC is only geared for one thing: to allow you to execute the most challenging maneuvers with ABSOLUTE confidence in your drive system. 
With ease of use in mind, the PA Quantum 30 includes ONLY features that you NEED for performance, minimizing the hassle of lengthy and confusing programming steps. This means less time spent on the ground going through lengthy and frustrating programming features that you do not use. The PA Quantum 30 is also already pre-programmed to match the Thrust 20 motors.
·         High power output BEC (Battery Eliminator Circuit)
·         Fully programmable Microprocessor Controlled 
·         User friendly human interface for easy, hassle free and quick programming
·         Exceptionally low resistance for excellent efficiency and  cool operation 
·         High Rate switching with High RPM Brushless motor support 
·         Rugged surface mounted industry grade components for added reliability and crash durability 
·         LiPo, NiMh, NiCad battery pack under voltage protection to safeguard premature deterioration and pack damage.
·         Large PCB and heat sink to allow better cooling.
Continuous current

30A

Burst Current (<10s)

35A

BEC Output Linear 
(Peak Loads 10sec)

5V/4A (max) 
4A @7.4V, 
  3A @11.1V

BEC Output Linear 
(Continuous Loads)

3A @7.4V 
(5 micro servos)

2A @11.1V 
(4 micro servos)

Li-ion/ LiPo

2-4 Cells

NiMh/NiCd

5-12 Cells
PA Lipo Pack 2200mAh 11.1v 20-40c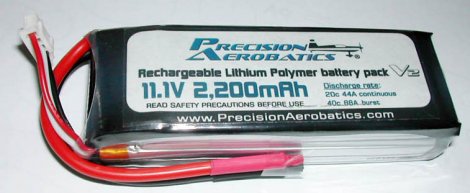 These packs are perfectly matched to Quantum 30, Thrust 20 and recommended prop to attain the optimum performance and long service life. They are also perfectly sized to fit the airframe to attain the specified CG and design AWT without the need to make modifications to the airframe.
German made CNC machined precision prop adapter.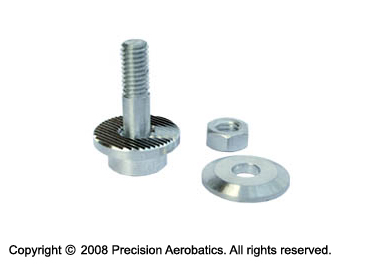 It may seem like a minor component installed in your high performance aircraft. However we find it extremely important since the prop adapter affect the final thrust and performance of your motor. Most prop adapters available on the market are prone to be slightly off center creating excessive vibrations that leads to the weakening of glue joints on the motor mount causing pre-mature motor-box failures. We have tested many differing brands of prop adapters without success in meeting our performance criteria (predominantly due to inconstancies in quality and precision). As such, we have decided to design our own custom made prop adapters which are specifically CAD/CAM produced in Germany. We tried many different brands with no success (mainly inconsistent quality and inaccuracy), so we decided to produce these adapters in Germany from the highest grade materials and machining. The adapter is CAD designed by Precision Aerobatics and is made for us inGermany.
4 Sub micro servos (Voltec 60BB)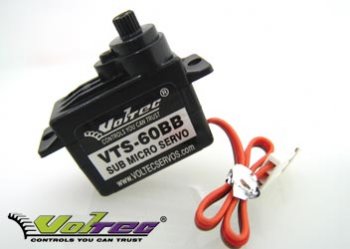 These servos offer high torque (1.2kg), high speed (0.10 sec) and are very light weight (only 6.8g including the connector and the wire). Other servos are heavier and may offer the same torque at lower speed. Keep in mind that each gram counts when considering the all up weight of the model. Direct fit for the Katana Mini and Electric Shock servo tray, no modification required.
APC 11x3.8E prop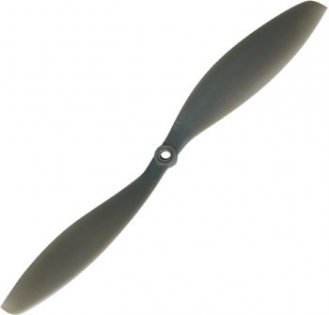 Thin gauge twisted light extension lead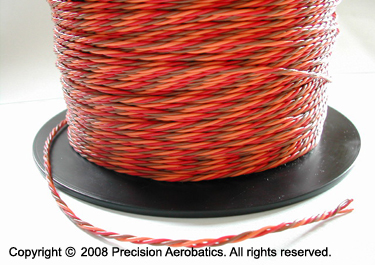 This leads are made in the same German factory as our giant scale airplanes HD leads). Due to its fine high quality strings it is extremely flexible preventing RF noises and features low internal resistance. 
Set of 4 Carbon Fiber extended servo arms 
Get the most out of your airplane!  If your airplane features extremely large control surfaces, the load on the servos will flex the plastic spline. To get the full movement and maximum throws we offer a set of extension servo arms which are easily installed on top of the supplied servo arms. The carbon fiber arms are stiff and will not flex, allowing you to get the most out of your airplane! 
When buying a Precision Aerobatics keep in mind that you will need those servo arms for correct linkages geometry as intended in the design.
Features
Set of 4 servo arms

Snap installation

No glue required

Total weight including hardware 0.4g only!

Best solution for maximum throw in 3D funfly models

CF woven awesome look!

Can be used on sub micro and micro servos

Hardware and instruction are included

Accurately CNC machined in our facility




Katana Mini CF wheel pants Cool carbon fiber wheel pants set to complete the CF look