PA Lipo Packs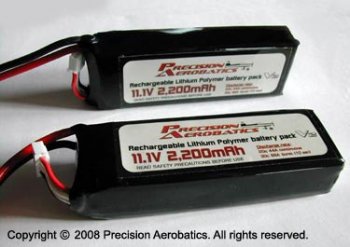 Click here to go to the PA.com cart Lipos section
Click here to read Tips for Handling and Caring of Lithium Polymer Packs
The V2 Chemistry - The Difference
The new and improved V2 packs leverage on the proven V1 chemistry to provide superior performance consistency throughout the flight, reliability and trouble free long service life (see note 1 below) in a compact and lightweight format.
The improved V2 chemistry features a much lower internal resistance provides at least 15% boost in performance over the V1 pack, with an added bonus of a safe charging rate of 2C *.  In other words a much improved punch for quicker acceleration and a quicker cycle time at the flying field, doubling your fun (see V2 datasheet).
Our airframes designed with the PA Lipos in mind and as such when setting up a PA airplane using our packs means plug and play without the hassle of figuring out the CG positions or modifying the airframe to fit.
Our comprehensive iPAs (Integrated Performance Airframe-Drive System) tests consist of particular airframe, motor, ESC, propeller and0 battery combination. Change any of those components and you change the model's specified aerodynamic performance. Don't compromise! High performance airplane, require high performance set up.
If you used other brand packs, you have probably experienced a power droop at the last 25% of the flight; this is a typical characteristic found on many ordinary Lipo packs. This is THE Difference you will find with the PA Packs: similar to our thoroughly tested V1 packs, the V2 chemistry provides a very constant voltage throughout the flight (See graph below).
In the series of tests conducted, we recorded consistent flight performance up to 90% of the flight duration. This means high energy maneuvers could be performed with consistency up to almost the end of the session without being constrained to execute low power maneuvers (less throttle) at the last 25% of the flying session, in order to avoid damage to the battery pack.
The V2 packs take the limitation of EP flight out of the equation. No more compromises on the mix of maneuvers from start to end. The V2 packs allow you to fly in a similar fashion to the flexibility offered by IC-models within the flight session (See note 2 below).  This opens up a whole new avenue to perform flashy maneuvers such as a high speed snap into a hover followed by a torque roll and finishing off with a hand catch to add a high impact finale to your repertoire.    
Specifications
| | | |
| --- | --- | --- |
| Description | PA 2200mAH V2 | PA 1800mAH V2 |
| Capacity | 2200mAh | 1800mAh |
| Dimensions (L)X(W)X(H) | 102.8mm X 34.8mm X 23.32mm | 102.8mm X 34.8mm X 18.32mm |
| Weight (with Deans Ultra Connector) | 173gr | 142g |
| Max Continuous Discharge Rate (20C) | 44A | 36A |
| Max Burst Rate (10 sec) (30C) | 66A | 54A |
| Max Charge Rate | 4.4A (2C) | 3.6A (2C) |
| Balancer Plug Type | Standard JST Compatible | Standard JST Compatible |
About our testing
Unlike other battery manufacturers, we have deliberately chosen to conduct lifecycle test in actual live conditions as opposed to bench testing in controlled clinical conditions. This ensures that our Lipos stand up to actual external influences (ambient temperature, ventilation, handling, field charging, cool down and repetitive cycles) at the flying field and in the air that will affect the overall battery performance.   
Applications
The PA V2 Lipo packs are especially suitable for high performance 3D/freestyle Speed 380-480 class model airplanes as well as 450 class hardcore 3D micro-helicopters. The added punch, low internal resistance, voltage consistency and light weight allow for the ability to sustain demanding hardcore 3D maneuvers and therefore enhance the performance of any model the pack can physically fit in. 
Note 1
Based on our actual field testing findings of the 2200mah V1 packs conducted over the span of 12 months (i.e. in excess of 130+ cycles in grueling conditions of hard flying in punishing hot & humid conditions with average ambient air temperatures of 27-40 degrees C, 80-104 F). All our test packs survived the stress test with no evidence of permanent bloating and still remains above the acceptable usable range of an average Lipo pack (An average only 13% loss in capacity and a rise in operating temperature recorded at the 100th cycle mark). This test is still continuing to determine the end life of the test packs (20% loss of capacity or upon reaching an unacceptable temperature rise of 70 deg C, 158 F).
Note 2
Based upon setting the flight time to stay at or above 30sec before the speed controller Low Voltage Cutoff begins to kick in.
Charging the V2 packs at 2C is completely safe; however, as a rule of thumb faster charging of any battery reduces the quality of the charging. We therefore recommend to charge at 1C when ever possible in order to maximize the pack's lifespan.
Caution
Due to the fairly linear discharge curve characteristics of our Lipo packs, the apparent feel of a power reduction beyond the last 25% of the flight may go unnoticed until the LVC kicks in. Due to the sustained punch right up to 90% of a normal session, there is always a temptation to fly to a point of hitting the LVC.  Henceforth we strongly recommend setting your TX flight timer to consume about 80-90% of the pack to avoid any unwanted LVC.
Click here to go to the PA.com cart Lipos section
Click here to read Tips for Handling and Caring of Lithium Polymer Packs